Having some cabinets to organize the things in your small bedroom is not a top-notch idea. Their bulky size definitely gobbles up the valuable space in your tiny bedroom. But, that won't be a big deal if you can make your own cabinets that fit snugly into your bedroom. If you are looking for some DIY cabinet ideas, you've come to the right place as I've listed 10 cabinet ideas for small bedroom that are DIY-friendly. 10. Turn it into a Loft Bed Loft bed is the best solution for any bedroom with very limited space. By going vertical, you will have more space to move through so the bedroom will become more comfortable and spacious, just like this loft bed. These cabinets fit perfectly with this tiny bedroom. The first thing you need to do is measuring the width of your bedroom thoroughly. Then, you can make the cabinet frame. You will also need to make the bed frame that holds the bed in place.
9. Space-Saving Cabinets for Those who Share a Room When two users share a room, it means double mess. But sharing a room is not always a bad idea because it can be so much fun. All you need to do to maintain the fun while eliminating the mess is by making cabinets that can accommodate all the stuff without compromising the space. Shoving the cabinets and beds against the wall is the best way to create more space in the middle. Don't forget to make use of every space you have including the corners of your bedroom by making corner cabinets. Raising your bed a few inches off the ground allows you to have more space underneath, which means you can make some drawers for more storage solutions. 8. A Comfortable Nook Cabinets with built-in bed can be a great nook for reading or taking a nap. It might be rather tricky, but it doesn't mean you can't tackle it. You can always seek some assistance if you can't do it yourself. The first thing you need to do is making the frame where the bed nests. The frame will also support the upper cabinets that will be installed right under the ceiling.
You will also need to make some niches on the support frame so they can host your books and any item that deserves displaying. 7. Replace the Footboard with Cabinets You probably have been advised to rip your headboard and footboard off for many times. Well, some people think that downsizing the furniture and some add-ons is the safe bet when it comes to an undersized bedroom. Nothing could be further from the truth. Instead of ripping the footboard off, you can replace it with cabinets. It is an easy project as you will only need to make some cabinets and install them to replace the footboard. To make these cabinets, you will need some plywood, screws, pocket hole jig, and some other materials.
You might want to reinforce joints of the cabinets using corner brackets. 6. Make Use Every Space You Have Every inch counts in a small bedroom. Therefore, don't let the walls and the space under the bed leave wasted. And to achieve this goal, you will need to install wall mounted cabinets. You do not need to make sophisticated cabinets. Some simple ones that look like cubes will do in a pinch. You can either ditch or install the cabinet doors. But for an easier access and a more stylist look, you can try removing the doors. 5. Try Sliding Doors The ubiquitous cabinets usually feature pull-out doors that take up more space which makes your bedroom look more cramped.
Why don't you try replacing the door of your cabinets with sliding doors? Sliding door requires sliding door track that enables it to move aside rather than forward, which means you won't sacrifice any space. This cabinet, for example, offers you ample storage space without seizing extra space. Besides having sliding doors, it has open shelves on one side that can help you store books and decorative items so you can grab them easily.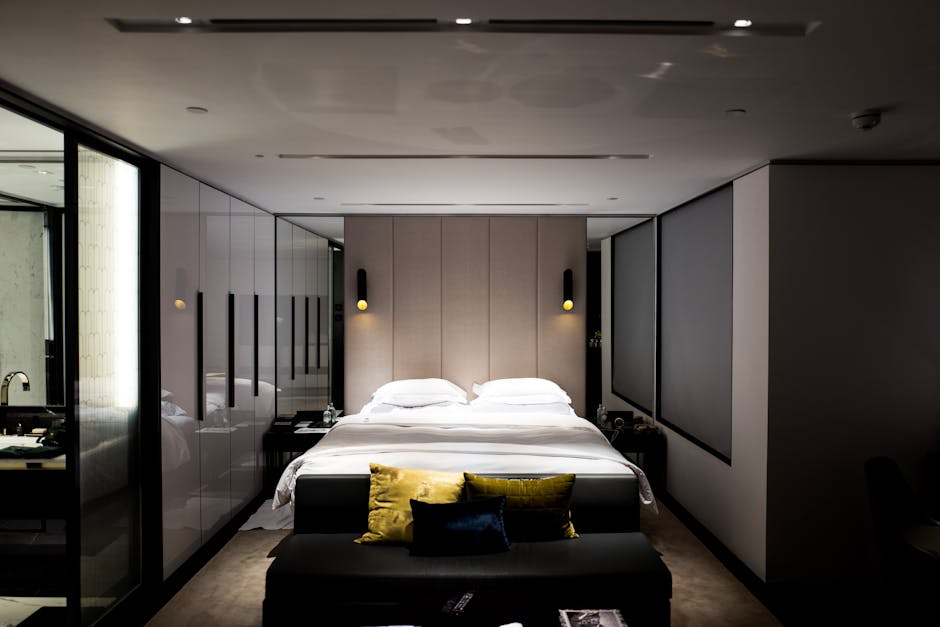 4. Incorporate Murphy Bed to The Cabinets The great thing about a murphy bed is it can be hidden away when you are not using it so you can maintain the clean floorspace. You can find the steps of making a murphy bed from scratch on the internet, or you can add a twist to an existing bed frame by removing one of its legs, installing the struts, and attaching the frame to your cabinet.
3. Use a Headboard that Features Cabinets This headboard packs a lot of storage space for your small bedroom. It has plenty drawers at the back side of the headboard that you can use to store socks, jewellery, and underwear while you have some cabinets and foldable side table at the front side. The way you make this headboard is exactly the same as the way you made the common cabinets. You can begin with cutting the boards and making the cabinet frame. Then, install the drawer slides to the frame and each drawer.
For the foldable side table, you're gonna need to attach a board with hinges that allow you to fold it. 2. Upcycle Fancy Drawers Drawers and cabinets with curvy edges and sophisticated details can be outdated for some people. But you can turn it into an epic headboard that is not only chic but also functional. You simply need to sand and paint the drawers and cabinets the colour of your choice, replace the pulls if necessary, and attach them in the place of your headboard. Before we get to number 1, I suggest you to press subscribe button if this channel is new to you. Get new updates automatically every time I upload new video and let's find out last idea sitting on our top chart. 1. Anchor the Bed Sometimes placing the bed in the middle of the bedroom is worth trying as you can have more space on both sides of the bed.
To balance the look, you can place two cabinets on the right and left side so it will look like the bed is anchored with them. Now you know that having cabinets in your small bedroom is not always a horrible idea. There will be always the ways to keep them without sacrificing the space. Therefore, you should give these ideas a shot! That's it for now, before you leave, like this video (if you truly enjoy it), comment it, or share it with anyone close to you in your social media account or email list. Browse and follow Simphome website for more home décor and makeover ideas. Lastly, see you again later with more video like this in a near future. And, Until that time….
Thanks for watching. .
Sleeping time should be the most relaxing time for you. But who would sleep comfortably in a small and crammed room? A small bedroom can ruin your sleep which eventually ruins your day. Unfortunately, you have no choice but dwelling in a small apartment with a small bedroom since a bigger one can cost you a fortune. Well, it means you have no other choice but putting up with the small space and using some smart tips to make it feel more comfortable. And this is your lucky day as I've listed 10 ideas for homeowners who have to sleep in a small bedroom. As usual, this list is crafted for you by simphome.com 10. Use Curtains and Shelf as Room Dividers One of the best ways to make your small bedroom look and feel comfortably sized is by forgoing the wall separating the bedroom and living room.
However, this action also entails a drawback. You will have to compromise your ultimate privacy. You can stick to this idea by having a room divider. Room dividers come in a wide array of designs and sizes. Instead of picking the one that will only better the look of your bedroom, opt for a shelf that incorporates additional storage space and functions as a perfect room divider as well. If it is not enough, try adding a curtain to cover the other side of your bed so you can get your privacy you need. 9. Stick to White Hues Besides the space-saving furniture, another thing that plays a crucial role in a small bedroom is the colour hues. Darker colours like black might make your bedroom look bolder, but it will make your bedroom look more crammed and confined too. Instead of black, try painting your bedroom white. White hues can help you trick the eyes so you will think that your bedroom is bigger than it really is. Besides, white is a neutral colour. You can pair it with a few tints of any colour of your choice to make it less stark.
8. Invest in a Bed Frame with Built-In Drawers You can't have many pieces of furniture in your small bedroom. Therefore, you need to invest in a piece of multipurpose furniture just like a bed frame that features built-in drawers. This bed frame allows you to store your clothes, shoes, or any other thing without cramming your bedroom or make is look messy. You can get this bed frame in the home improvement store near you or you can always make it yourself to save more bucks.
7. Be Creative with Wall-Mounted Shelves Wall-mounted shelves are your safe bet as they can help you organize things while keeping your floorspace clean, which is good for a space-challenged bedroom. You can find many wall-mounted shelves at IKEA, but it is always a great idea to make the shelves yourself as you can cut down on more expenses as well as getting the shelves that suit your style and personality well. Honeycomb shelves, for instance, can be a best choice as they are easy to make and provide ample storage space for your decorative plants or books. To make a honeycomb shelf like this, you're going to need 1"x4" woods, staple gun, wood glue, sponge brush, and paint. For a cheaper one, you can glue a bunch of popsicle sticks together to form a honeycomb shelf. It is much easier and cheaper too. Besides the honeycomb shelves, you can make triangle, round, or even Batman shelves. They not only help you keep things tidy but also decorate your bedroom nicely.
6. Incorporate Another Purpose A nightstand is one of the must-have items in a bedroom since it holds your table lamp in place so you can get sufficient light when reading something on your bed. However, a nightstand can take up the floorspace. Instead of a nightstand, you can replace it with a wall-mounted shelf over your bed. What about the table lamp? Don't worry! You can swap it with two or three LED lights attached on the shelf. Now you can still have enough light without having a table lamp on your nightstand.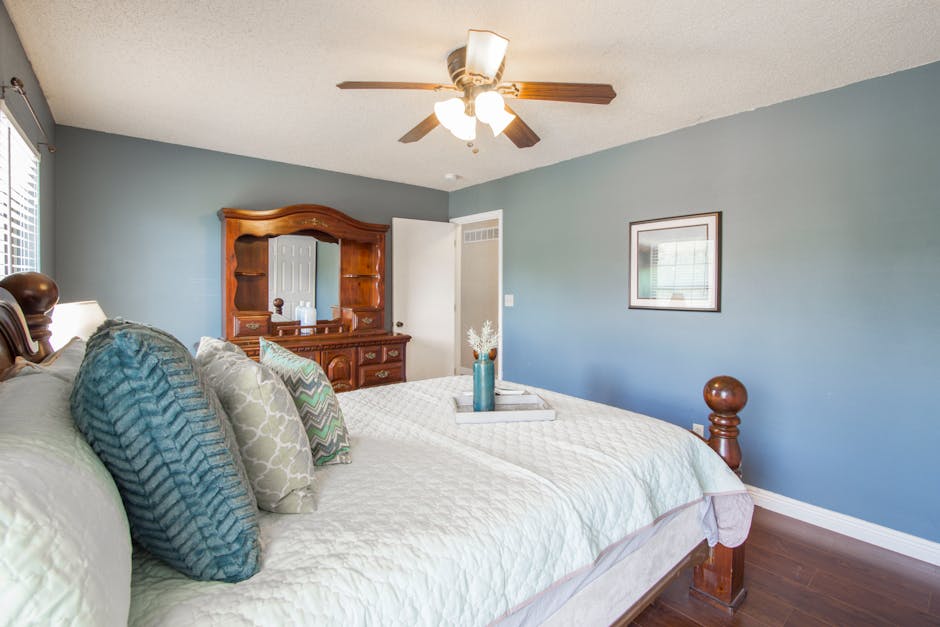 5. Swap the Headboard with Mural Art A headboard is actually a decorative item that accentuates your bed. It will make your bed look more elegant and stylish. But if you have an undersized bedroom, keeping your bulky headboard is not a good idea. Try replacing your headboard with mural arts. Mural art works better than a headboard. It can draw the eyes to the focal point without gobbling up your limited space. Besides, it's a fun activity that you can do with your family members. Just explore your imagination and begin to make a masterpiece in your bedroom. 4. A Side Table with Storage Space Instead of a Nightstand Why do you have to keep a table that can only hold your glasses and table lamp if you can have more than that? Opt for a side table that features some drawers or a cabinet to hold your table lamp.
The storage space offered by the side table enables you to stash books or even chips in case you want to grab some snack before sleeping. 3. Place the Bed Against the Window A focal point is also important even for a small bedroom. You can't just brush over it. But you also need to use your wall space wisely as every inch counts in a small bedroom. Therefore, placing your bed against the windows will help you solve this problem. The windows and curtains come as a natural focal point for your bedroom. And the good news is you don't waste your wall space. 2. Suspended Side Table Sleeping in an attic bedroom is a blessing in disguise because the low ceiling allows you to make this wonderful side table. To make this side table, you only need to drill three holes on a piece of wood. Make sure the holes have the same width as the ropes. Then insert the ropes through each hole and make a knot on each rope. After that, screw an S hook on the ceiling and knot three ropes around the hook. Done. And lastly number 1. A Mirror Wall idea It is common for a small bedroom to have a full-length mirror because it can reflect the light and make it look more spacious and airier.
You can try covering your wall with a huge mirror to get more light. Just place it at the opposite side from the window so it can reflect the natural light better and your job is done. Leaving you with cleaning chores every new week or so. So, having a small bedroom is not the end of the world. In fact, you can do various fun activities there and to turn it into the most comfortable place for you and anyone you want to spend your rest of your life with.
That's it. Next time we are going to learn about "10 Bedroom Ideas for Small Sleeping Room Owners". .